Welcome to the Wiki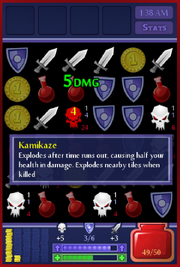 Dungeon Raid is going to challenge your strategy skills to the max! Trace a path and match the tiles to collect treasures, buy and upgrade weapons and defeat monsters in this exciting and addictive puzzle roleplaying game. Things happen fast in Dungeon Raid, so gather your courage and dive in!
About Dungeon Raid
Dungeon Raid is a puzzle RPG, a blend of puzzle game with roleplaying mechanics. Your mission is to trace a path through a set of matching tiles, but watch out – you may be attacked by enemies who improve as fast as you do.
As you go, the object is to collect as many resources as you can, like gold and experience. Get enough points and you can buy or upgrade equipment and level up. All the while, remember to avoid those nasty enemy skull tiles and fight them off for as long as you possibly can. And don't get too greedy, or you risk being overwhelmed!
The higher you go in a Dungeon Raid game, the more strategy you're going to need to match a greater number of tiles, grab bonuses and stay ahead of those evil adversaries. Never forget that they improve as the game continues.
Keep your wits about you as you play Dungeon Raid. As you level up, there are many trade offs to consider and complimentary combinations of skills to be chosen. If you're not used to the tense pace of the higher levels, go ahead and start on easy difficulty. That gives you the chance to play the game in a more relaxed way, and watch how powerful your avatar can become.
Regardless of your skill level, you'll never get bored with Dungeon Raid because there's so much going on! There are hundreds of items to collect, a growing list of character skills and many different strategies for you to use. You'll be itching to play just one more turn, just one more game for hours and days on end.
Features:
4 difficulty levels: select a relaxing easy game or go for a challenging and strategic experience
400+ unique items to buy and upgrade
30 diverse abilities to help you and hinder your enemies
20 powerful upgrades to apply to your items
25 special monsters to defeat
Level up and improve your avatar as you kill enemies and collect experience points
Global leaderboards using Game Center & OpenFeint
Play your own music during the game
Constant save system: quit the game and return to it at any time
Ultra-smooth 60 frames per second tile-matching adventure
Specifically designed for optimum enjoyment on iPhone and iPod touch
41 articles since November 2009
120 images uploaded
Basics
Characters
Abilities
Enemies
Community content is available under
CC-BY-SA
unless otherwise noted.